Public Engagement Feedback Report, Accessibility Consultations
This Spring, the Accessibility Office consulted with the community to support the development of the 2020-2024 City of Ottawa Municipal Accessibility Plan. Over 200 residents provided disability-related feedback.

We have combined all sources of data and divided the feedback into five categories, representing the five Standards of the Accessibility for Ontarians with Disabilities Act (AODA), 2005: Employment, Customer Service, Design of Public Spaces, Information and Communications, and Transportation.

The report describes the ways in which we consulted with people with disabilities, who we heard from, and includes highlights from the feedback in each of the five categories.

Thank you to everyone who participated!
Providing residents with accessible documents
Did you know that City employees are required to provide residents with information on City programs and services in accessible formats or with communication supports when requested by a resident? For example, residents can request City documents in large print, or that someone communicate in American Sign Language at a City event. To ensure residents have equal access to City information and documentation, services and programs, City employees are required to provide residents with accessible formats and communications supports upon request. This obligation is legislated by Section 12 of the Accessibility for Ontarians with Disabilities Act, 2005 (AODA) – Integrated Accessibility Standard Regulation (IASR).
The accessible formats and communication supports procedure indicates that requests for accessible formats and communication supports can be made in a number of ways including:
An in-person request at a City service counter
Through the online accessible format request form on ottawa.ca
Through a request to 3-1-1
By a request from a City staff to their Manager/Supervisor
The person with a disability is to let City staff know which accessible format or communication support would best assist them to gain access to the information or service. Some examples of accessible formats and communication supports that may be requested include
An electronic document formatted to be accessible for use with a screen reader to assist people who are Blind or have partial sightLarge print of a document to assist people with partial sight
Braille for people who are Blind
Written text transcripts of audio for people with hearing loss or visual information for people with partial sight
Handwritten notes instead of spoken word for people with hearing loss
Providing pictures/diagrams and/or audio-based formats of high-level/dense text documents to assist people with print-related disabilities
Information written in plain and clear language to assist people with cognitive disabilities
American Sign Language /Langue des signes québécoise interpretation to assist people who are Deaf to participate and communicate
Taxi coupons for Para Transpo customers just became more affordable and convenient
Taxi coupons have always been a great alternative for registered Para Transpo customers who prefer the flexibility and versatility of taxi service.

However, recently taxi coupons have become even more affordable and convenient thanks to improvements made possible through the Vehicle-for-Hire Accessibility Fund.
The price of a taxi coupon book, which provides up for $40 worth of taxi fare, has just dropped from $24 to $18. As a result, by using the coupons, Para Transpo customers can now save 55 percent off the regular fare.
The limit on the number of taxi coupon books Para Transpo customers can buy each month has been increased from four to eight.
Plus, the automatic ordering of taxi coupon books is now available. With this option, Para Transpo customer can sign up to receive a supply of coupon books in the mail every month
Once Para Transpo customers have their taxi coupons, they can call any participating Ottawa taxi company directly to book their trip. Companies who currently accept taxi coupons are Blue Line, Capital, De-Ville and West-Way.
For more information about the Taxi Coupon Program, please contact an OC Transpo Customer Service Representative or visit octranspo.com.
Snow Go programs support increased mobility for seniors and people with disabilities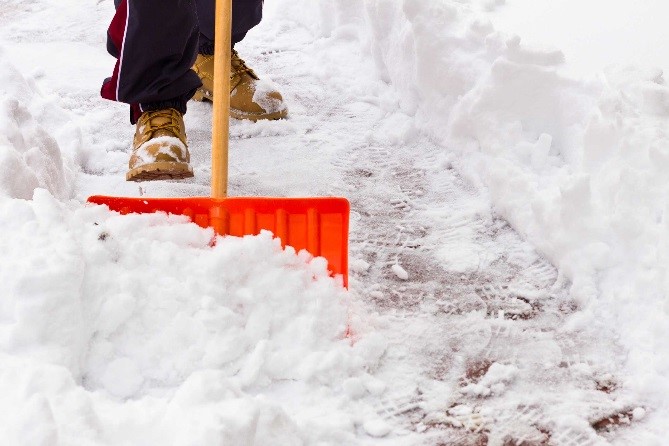 With the arrival of ice and snow, Ottawa winters can be a challenging time for seniors and people with limited mobility.

The City funds two programs, Snow Go and Snow Go Assist, which help seniors and people with disabilities with their snow removal. The City partners with nine community agencies to run these two programs.

The Snow Go program vets snow removal workers and matches them with seniors and people with disabilities to get their snow cleared. Residents pay the workers directly for their services.

The Snow Go Assist program goes one step further and helps low-income seniors and people with disabilities with the cost of their snow removal.

As one program participant noted, "Without this program I would not be able to live in my own home. I have a limited income as a senior and I am not able to shovel snow due to physical limitations and my age. This program allows me to stay in my home and to be safe when leaving my home; not having to worry about slipping and falling or not being able to wade through the snow"

To be eligible for the Snow Go Assist program funding, applicants must:
Be a senior at least 60 years old or a person with a disability
Have a low-income and show proof:

Annual income below $31,500 if single and below $39,200 for a household of two persons or more
Eligible residents may be reimbursed up to 50 per cent of snow removal costs to a seasonal maximum.

To apply, contact the partnering local agency in your area. For a list of these agencies, visit ottawa.ca/snowgo or call 3-1-1.
Snow Angel Program
Do you know a Snow Angel who deserves recognition?
A Snow Angel is a neighbour or friend who has volunteered to help you, or someone you know who is elderly or has a disability, to clear snow from the driveway, steps or walkway.
If you know a Snow Angel, the City of Ottawa wants to thank them! Snow Angels will receive a special keychain and a certificate signed by the Mayor.

How to nominate a Snow Angel
Snow Angel nominations are accepted between December 1 and April 30.

To recognize a resident as a Snow Angel, please inform us by one of the following methods: